We are printing company, mainly focused on paper package and carton printing and manufacturing. We can provide paper packages with fabric, razor, cooking tools, food, dietary supplement, medicine and many other manufacturers. Please contact us for high quality paper packages supplier in Japan. (Send email to above address.)
Corporate Profile
Company name
Tokiwa Printing Co.,Ltd.
Establishment
March 1939
Officially registered
March 1954
The president
Chairman of the board: Takezo Watanabe
CEO: Sadaki Watanabe
Capital
30 million JPY
Osaka
Head Office
1-2-12 Yariyamachi Chuo-Ku Osaka City Osaka Pref. Japan, 540-0027
Tel:+81-6-6942-0201 Fax:+81-6-6942-4032

Tokyo Office
1-5-6-5F Kudan Minami, Chiyoda-ku Tokyo, Japan, 102-0074
Tel:+81-3-6403-9481
Kudanshita station (Tokyo metro Touzai line and Hanzomon line)
Higashi-Osaka
Factory
2-2-34 Imamai Higashi-Osaka City Osaka Pref. Japan, 578-0903
Tel:+81-72-943-3300 Fax:+81-72-943-3310

Miyazaki
Factory
2765 Hosono Kobayashi City Miyazaki Pref. Japan, 886-0004
Tel:+81-984-22-4747 Fax:+81-984-22-4748

Business fields
Package and carton printing
and manufacturing
Main Banks
Resona Bank (Ueroku br.), MUFG bank (Tanimachi br.)
Japan Finance Corporation (Osaka br.), Miyazaki Bank (Kobayashi br.)
Main Clients
Gunze, KAI, Feather Safe Lazor, SOFT99,
Sun Note, Imotani, Yamada Tatsu etc.
Manufacturing Equipments
1 CTP system, Sheet-Fed Printing machines(5-unit UV, 5-unit, 4-unit), 3 Diecutting machines, 1 Hot foil stamping machine, 3 Guillotine paper cutters, 1 Folder-Gluer, etc.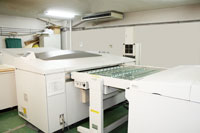 SCREEN PT-R8000 CTP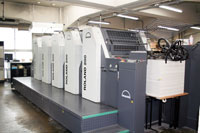 MAN Roland 200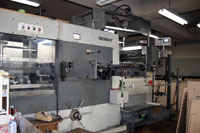 BOBST Diecutter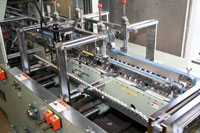 Folder-Gluer
History
March 1939
Kunitake Watanabe started printing business
March 1954
Tokiwa Printing Co.,Ltd establieshed in Minami Momodani-cho, Osaka
(Capital: 500 thousand yen)
September 1957
an electronic phototypesetting factory opened in Uehonmachi
May 1958
Improved technology in a relief printing field was patented
February 1960
Head office and plant relocation to Ajihara cho Tennoji-ku
February 1960
Capital: 3 Million Yen
April 1964
Roland offset printing machies were introduced
Janurary 1968
Capital: 12 Million Yen
May 1968
Head office building opened in Yariyamachi Higashi-Ku
November 1972
electronic photoengraving system was introduced
January 1973
Capital: 24 Million Yen
January 1975
Capital: 30 Million Yen
July 1977
photoengraving section became Graphic Echo Co.,Ltd.
November 1979
Takezo Watanabe became a President
June 1981
Technica Col.,Ltd established as producing and design business
August 1981
BOBST diecutter Introduced
June 1986
Hot stamping machine Inrtroduced
Novemeber 1987
ROLAND REKORD 4-unit sheet-fed offset prinitng machine Introduced
Semtember 1991
Plate Making Machine intorduced
February 1994
DTP section started
November 2001
SCREEN CTP system Introduced
October 2002
ISO 9001 certificated
May 2007
ROLAND-200 5-unit sheet-fed offset printing machine intorduced
Aug 2009
Cutting plotter intorduced
Aug 2010
Miyazaki factory established in Kobayashi city
Aug 2011
Adding the machine folded in Miyazaki factory
Semtember 2011
Replace the main factory CTP machine
October 2012
Get the JapanColor standard print authentication at the main factory
Sep 2013
Higashi Osaka printing plant established in Higashi Osaka city
March 2014
Get the JapanColor standard print authentication at the Higashi-Osaka factory
June 2014
Tokyo sales office established in Chiyoda, Tokyo
Aug 2014
Expand the application range of ISO9001 Higashi Osaka plant, in Miyazaki factory
October 2014
Get the JapanColor matching print authentication at the Higashi-Osaka factory
November 2014
Get the JapanColor matching print authentication at the Osaka factory
December 2017
Get the JPPS, Japan Print Privacy System, authentication.
Copyright ©Tokiwa Printing Co . , Ltd. All rights Reserved.